6/1/2016. 5 facts about the global Somali diaspora

---
"Cold Specks- Ladan Hussein"

Cold Specks - Bodies At Bay (Official Video)
6/2/2016. Cold Specks Is Reconnecting With Her Somali Roots-Okay Africa


---
NYT Editors: Saudi Arabia Spends 'Untold Millions' Promoting Militant Islam
Saudi Arabia has spent billions promoting its extremist version of Islam. Why? To combat the spread of Shiite Islam and ensure that the Islamic world is primarily Sunni. In recent years, the ancient Sunni-Shiite conflict in Iraq, Yemen, and throughout the Middle East has grown more overt, bitter, and violent. Now that Iran has agreed to rein in its nuclear program in return for the lifting of international economic sanctions, Riyadh fears a newly enriched Tehran will be more aggressive in spreading its Shiite doctrine and promoting Shiite-led revolutions. A trove of Saudi diplomatic documents covering 2010 to 2015, recently released by WikiLeaks
, shows a Saudi obsession with Iranian actions and Iranian influence. This campaign is intended to ensure the result that radical Islam would overwhelm moderate versions in many countries, and planted the seeds of many terrorist groups.
Saudi Arabia's latest foray in the tiny nation of Kosovo and their exploitation of U.S.-aided Kosovo as a breeding ground for violent reactionaries is only the "latest chapter in this long, sorrowful history," writes
the editors of The New York Times.
"[T]here is no evidence that any group gave money directly and explicitly to persuade Kosovars to go to Syria," but in a recent article, "senior officials in Kosovo told" a Times reporter "that extremist clerics and groups have spent heavily to promote radical Islamic thinking among young and vulnerable people. 'The issue is they supported thinkers who promote violence and jihad in the name of protecting Islam,'" Fatos Makolli, head of Kosovo's counterterrorism police, [told the paper]."
The editors continue:

"With a population of only 1.8 million people, Kosovo has sent more of its young people per capita than any other country to fight and die in Iraq and Syria. Since 2012, some 314 Kosovars have joined the Islamic State, including two suicide bombers, 44 women and 28 children. Even Belgium, widely seen as a hotbed of extremism after the attacks on Paris and Brussels, lags behind it in the recruitment rankings. ...
The United States and NATO invested heavily in helping Kosovo gain independence from Serbia in 2008 and establish democracy. That Saudi Arabia should be using Kosovo as a breeding ground for extremists, or allowing it to be used as a breeding ground by any Saudi entity or citizen, is a cruel reminder of the contradictory and even duplicitous behavior of America's partners in the Persian Gulf and helps to explain why its relationships with those countries have become increasingly troubled.
Kosovo, rescued from Serbian oppression after months of NATO bombing in 1999, has been known as a tolerant society. For centuries, the Muslim majority has followed the liberal Hanafi version of Islam, which is accepting of others. Since the war, that tradition has been threatened by Saudi-trained imams, their costs paid by Saudi-sponsored charities, preaching the primacy of Shariah law and fostering violent jihad and takfirism, which authorizes the killing of Muslims viewed as heretics.
Most Kosovars have resisted such proselytizing, and officials in Kosovo say that support for the United States and the West remains strong. Yet experts point to a number of reasons the country has been fertile ground for recruitment to radical ideology: a large population of young people living in rural poverty with little hope of jobs; corruption and an attendant lack of faith in government; and, according to a 2015 report by the Kosovar Center for Security Studies, an education system that does not encourage critical thinking."

Updated 5/27/2016. Continue reading

---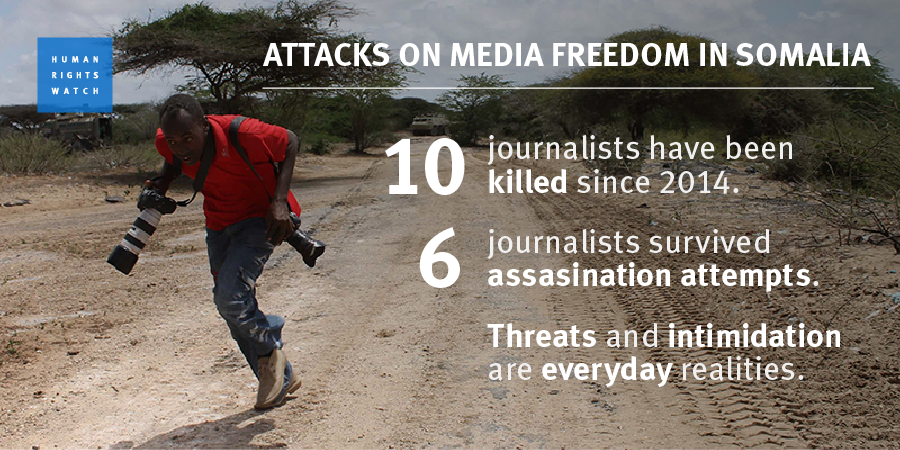 ---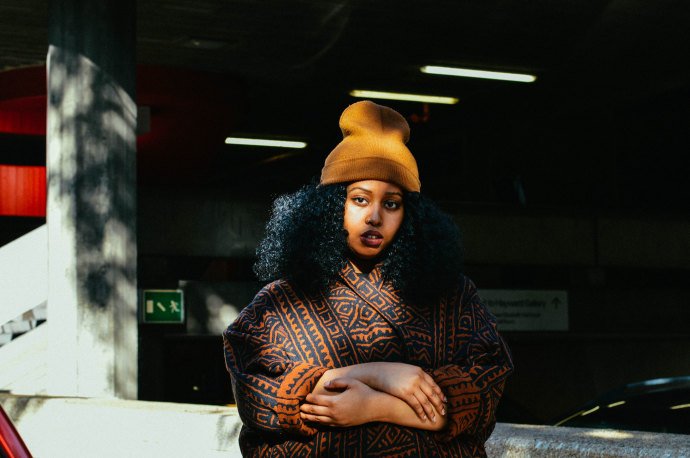 Updated Apr 26, 2017.
1. The Writing Life of a Young, Prolific Poet.(Warsan Shire)-Newyorker

2. Get to Know the Brilliant Somali-British Poet Featured on Beyonce's Lemonade
3. Warsan Shire Is the Next Beyonce-Backed Literary Sensation-Vogue
4. There's more to Warsan Shire than the Beyonce video-BBC

---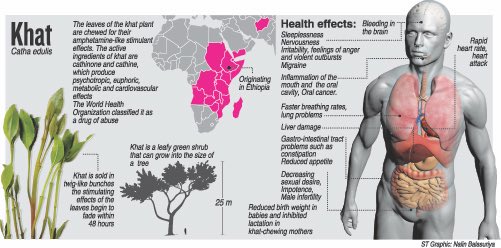 Recent update:

---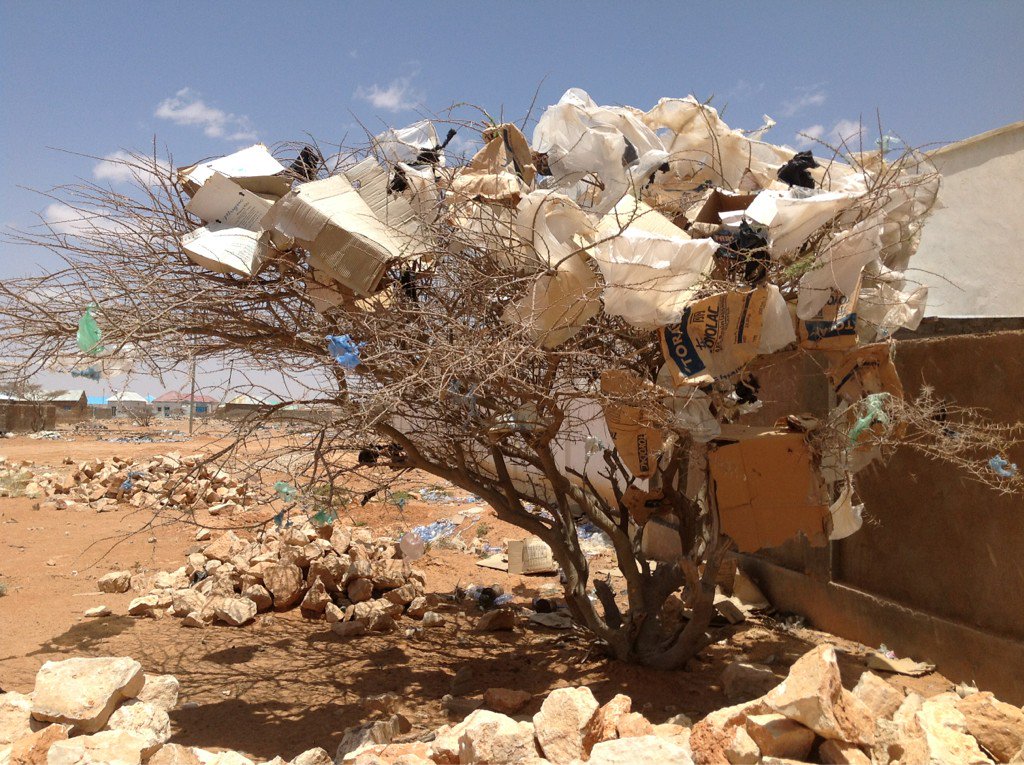 Mark T Jones. @MarkTJones500:
"I look forward to the day when trees, shrubs & even telephone wires in Somalia are free from litter". Photo by MTJ
---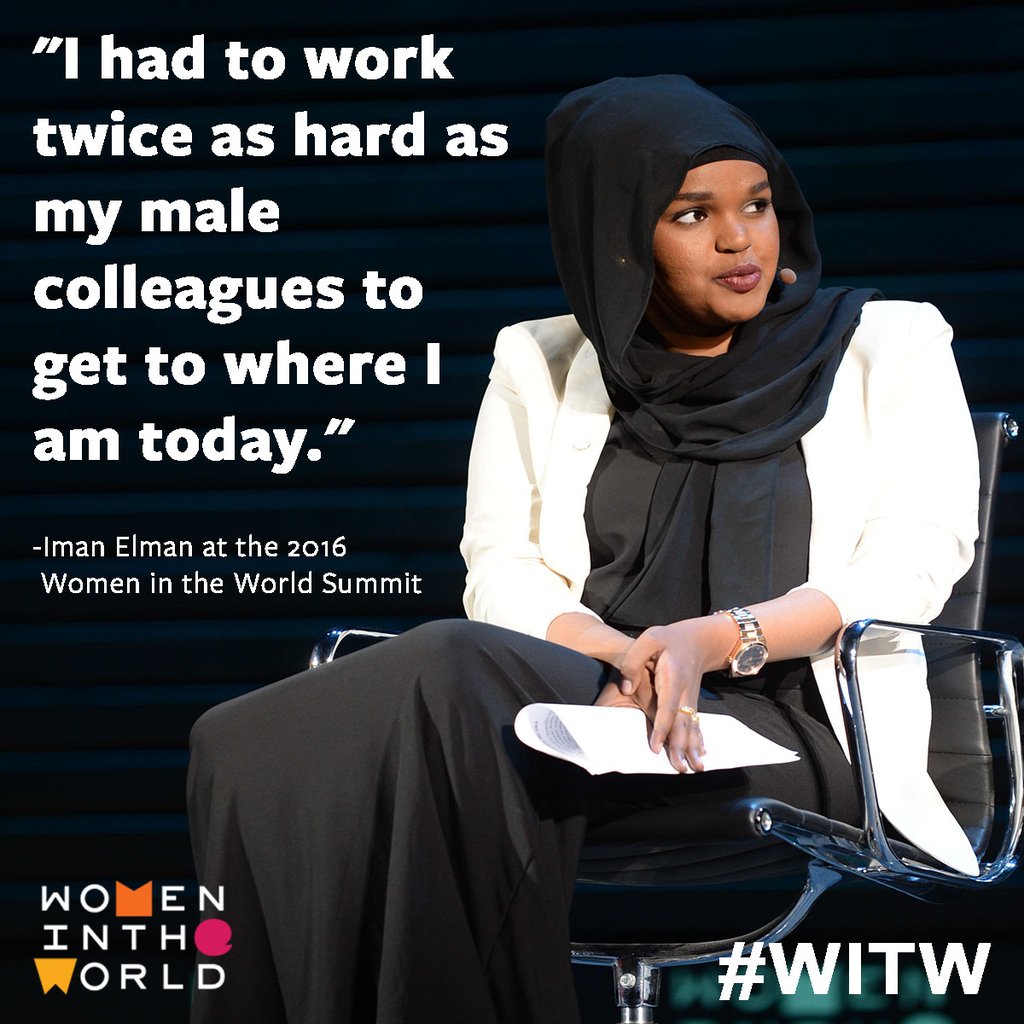 Somalia National Army Captain Iman Elman spoke about the threat of African jihad. Fighting terror: "It's an assault on our civilization, on our humanity". More

---

These are re-occuring images from the social media posted by the same account. Despite all the rhetoric of patriotism and compassion, it appears like a veiled clan screed. It's also classic case of sour grapes. Not surprise that no citation or link was offered beyond making these self-serving statements and propaganda.
The Mogadishu regime is far from being perfect in anything, including its handling of the constituent regions, so any number of faults can be found in this particular agreement with Puntland. Morever, even its own functionality not to mention its legality since its own making in 2012 is open to question. But this tirade sounds all one-sided and self-serving.
However, the point #3 is valid and could be even helpful, especialy for maintaining peace in northern Horn of Africa, that both the SFG and Puntland shouldn't support the narcissist thug Ali Ghalayd and his Khaatumo's rag tag militia. Whether they consider themselves to be either from Somaliland or Puntland, they should seek internal and peaceful solutions to their grievances.
For those who want to delve into this issue, the following articles discuss the broad features of the said agreement:
1. 2016: Agreement Between the Federal Government of Somalia and the Government of Puntland State of Somalia
2. Analysis: Puntland and the Somali Government Reach an Election Deal. What's Next?

---

"Somalia Prime Minster: "I'm Committed To Outlawing Female Genital Mutilation" "
Ninety five percent of girls there undergo the procedure.

---
---
"World Water Day 22 March 2016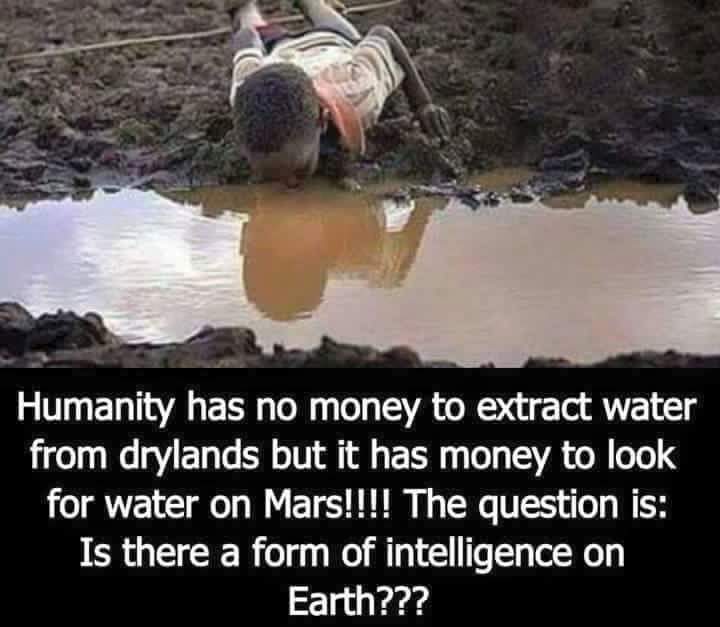 http://www.unwater.org/worldwaterday
---

7 nations bombed by U.S lately: Pakistan, Somalia, Yemen, Afghanistan, Syria, Iraq Libya.

Greg Greenwald asks four integral questions to the legitimacy of the US airstrikes in Somalia.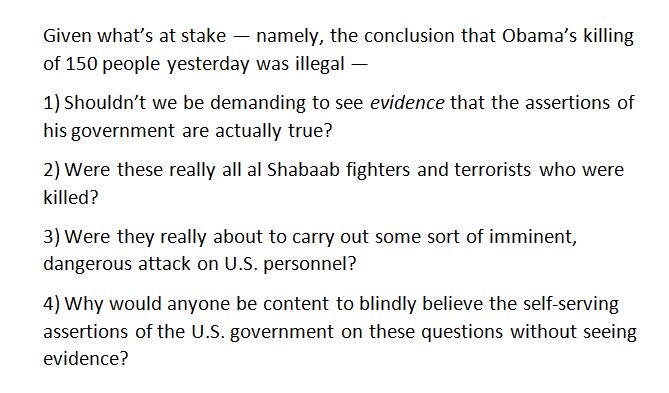 10 March, 2016. More-Intercept

Following the September 11, 2001 when the planes-transformed into rockets pummeled into the World Trade Center towers and damaged the Pentagon, Washington declared and still waging a war on "terror". Osama Bin Laden was inevitably found and killed around 10 years after the fact. In any case, the way the war on terror has been directed has prompted numerous voicing worries about the effects on basic liberties which has created a culture of fear in America, the mounting costs of the extra security centered changes that enormously enriched the security entrepreneurs and military contractors, the ramifications of the invasions and wars of choice in Iraq, Syria, Afghanistan,Somalia, Yemen and that's just the beginning on a war whose enemy is without fixed identity and terrain. In this context, terrorism is not an enemy but a technique of warfare -- political intimidation through the killing of handful of targeted terrorists but also more unarmed non-combatants and the terrorizing of entire societies because of their religion and politics.

---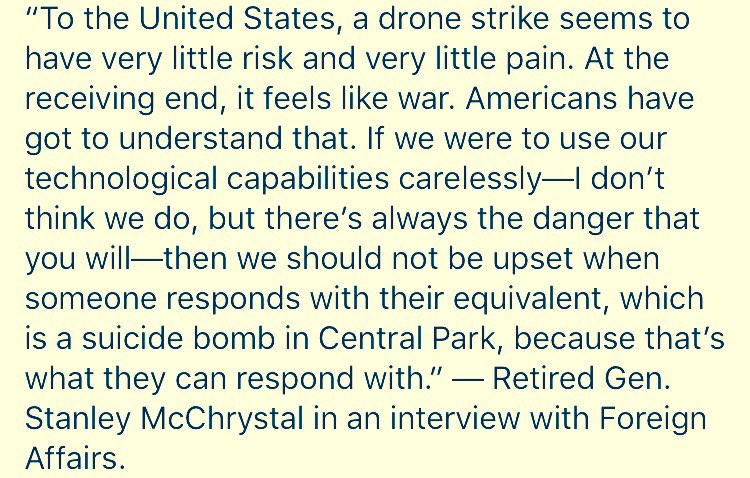 Retired Gen. Stanley McChrystal in an interview with Foreign Affairs
on drone strikes.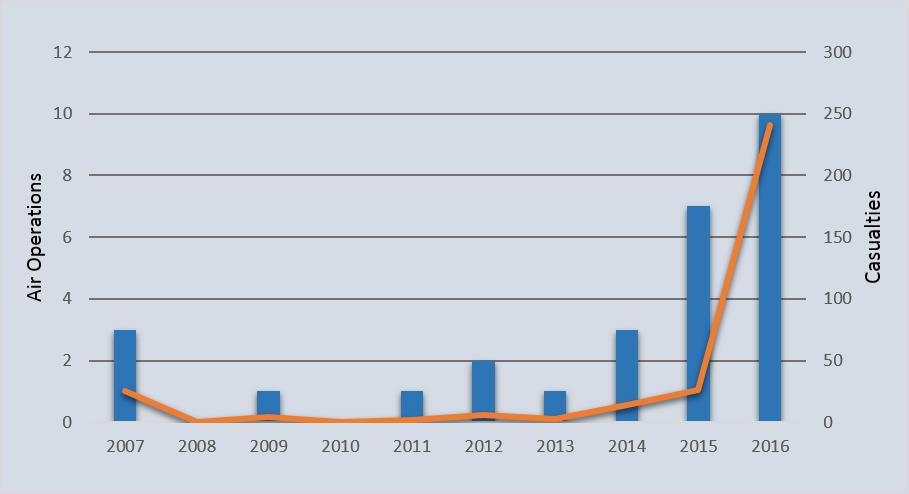 8/25/2016. The increasing pace of US airstrikes in Somalia. Source: The Bureau of Investigative Journalism. Note: Casualties are the average of low and high estimates. Could America's War on Terror creep across Africa?

* 8/5/2016. Obama Has Relied on the Flimsiest Rationale for Launching Attacks on Countries Across the Planet
by Sarah Lazare.
* 8/29/2016. Noam Chomsky: How Obama Has Ushered in 'a New Era of International Terrorism'

---
"The War on Terror: Ongoing Iraqi, Syrian, Yemeni, Somali, Libyan and Afghani tragedies"
Number Of Iraqis killed since U.S invasion in 2003: "1,455,590".
Number of U.S. soldiers killed in Iraq: 4,801

"We're going to take out 7 countries in 5 years: Iraq, Syria, Lebanon, Libya, Somalia, Sudan & Iran.." More

* 8/8/2016. Obama Expands the ISIS Bombing Campaign to a 4th Country, the Media Barely Notice
What began two years ago as "limited" air strikes in Iraq now includes Syria, Afghanistan, and Libya - all with little public debate.

---
"Partial costs of the empire driving the War on Terror"
Estimates fluctuate about the monetary costs of the War on Terrorism. One evaluation suggests around three trillion dollars. Be that as it may, in the event that one incorporates the yearly defense spending plans, homeland security costs subsequent to 2001, veteran affairs, and the added interest on principal obtained for military spending, the cost jump to a cosmic eight trillion dollars. Utilizing 2010 statistics figures about the quantity of families in the United States, this compares to about $70,000 owed by each American family. This is almost twofold the size of the national income. Joined with the stagnation of working class salaries, the swelling of health, public education, and fuel costs, and record low tax income from upper income families and companies, the white collar class now bears the heaviest weight of financing the war and its results. More.


"It's just that our country's $598.5 billion war machine is so ubiquitous that few people even think twice about its role in our children's lives.But we should. It isn't just that the current wars are less about "democracy" than about oil and empire. It isn't just the body count, though that is staggering: Researchers at the Costs of War Project at Brown University estimate
92,000 deaths in Afghanistan, 26,000 of them civilians, with more than two-thirds of Afghans now experiencing mental health problems. At least 165,000 Iraqi civilians have been killed in the Iraq war
since 2003. US drone strikes have also killed about 3,800 people in Pakistan
, most of them civilians. That's in addition to the estimated 6,800 US soldiers and 7,000 contractors
who have died, not to mention that Iraq and Afghanistan veterans have filed nearly 1 million disability claims with the US Department of Veterans Affairs. More

---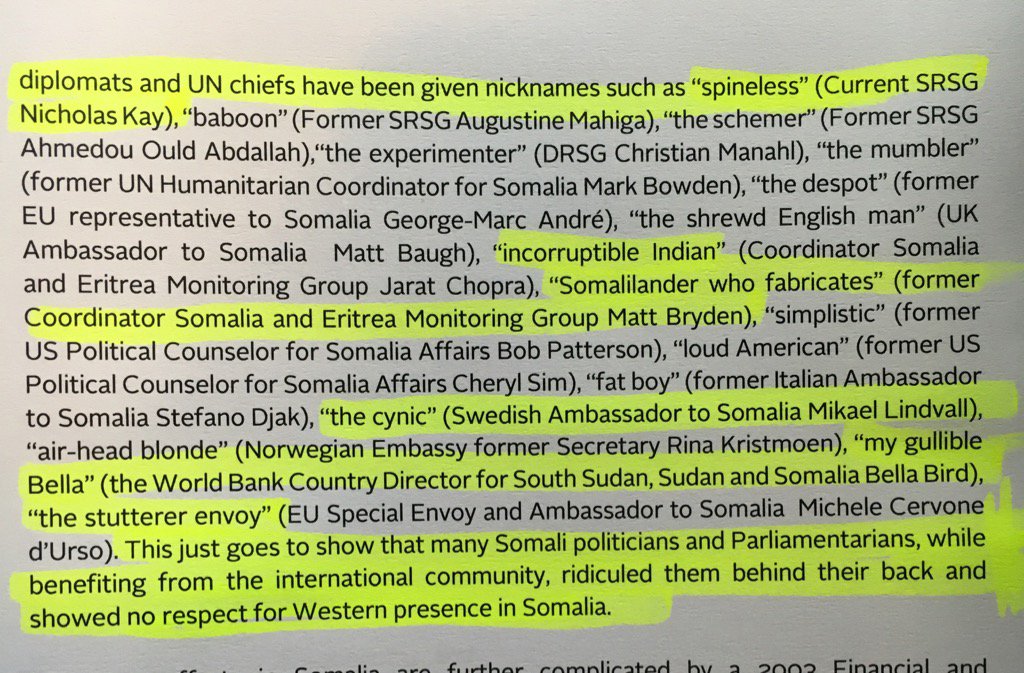 Somali sense of humor towards international community
---
Costs of Corruption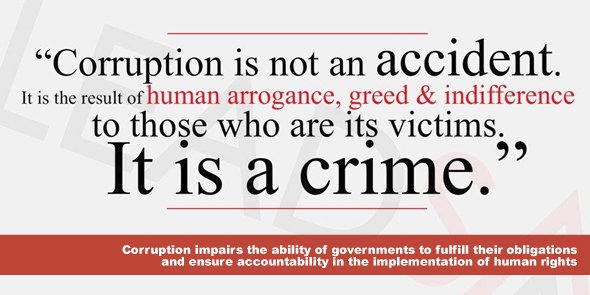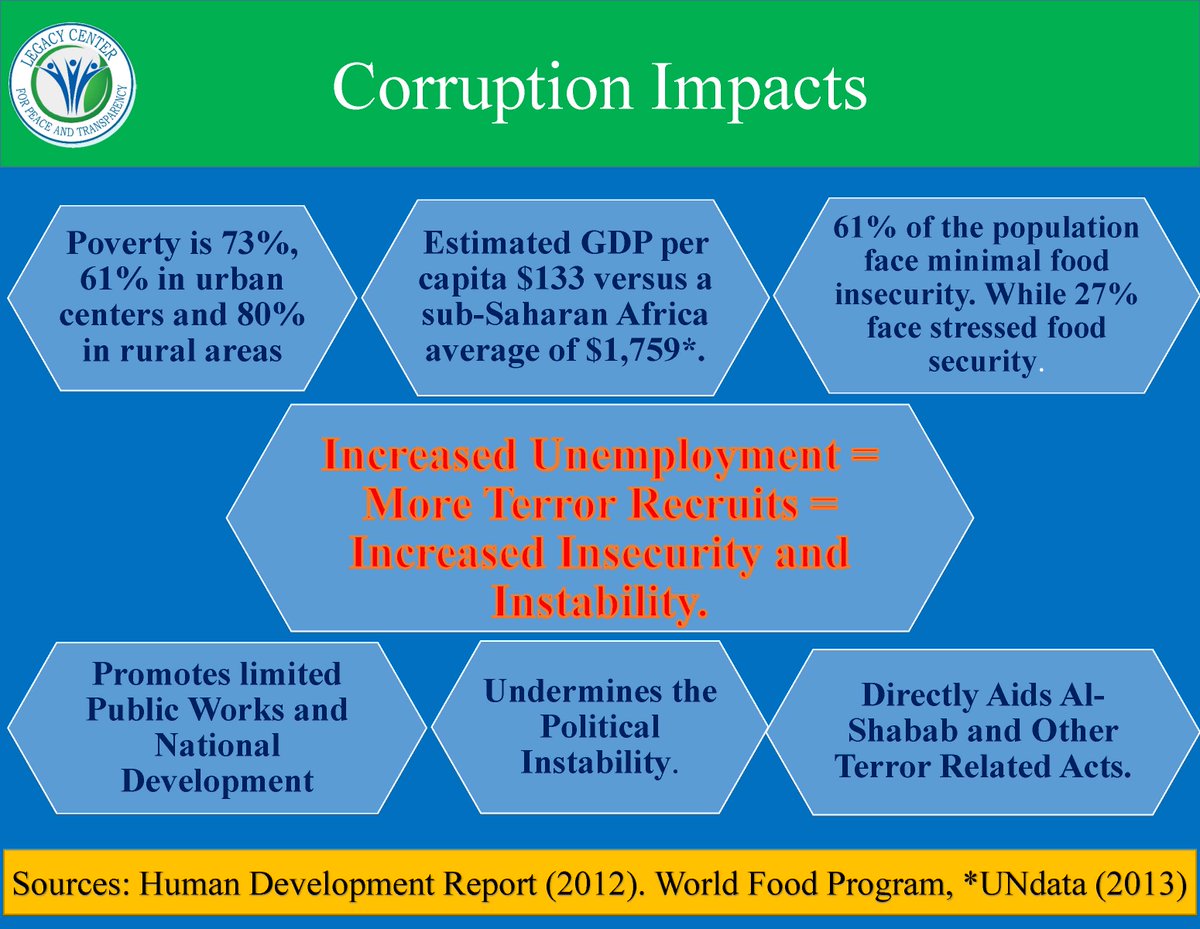 8 March, 2016. Legacy Center: Overview of corruption, underlying causes and its impacts in Somalia

---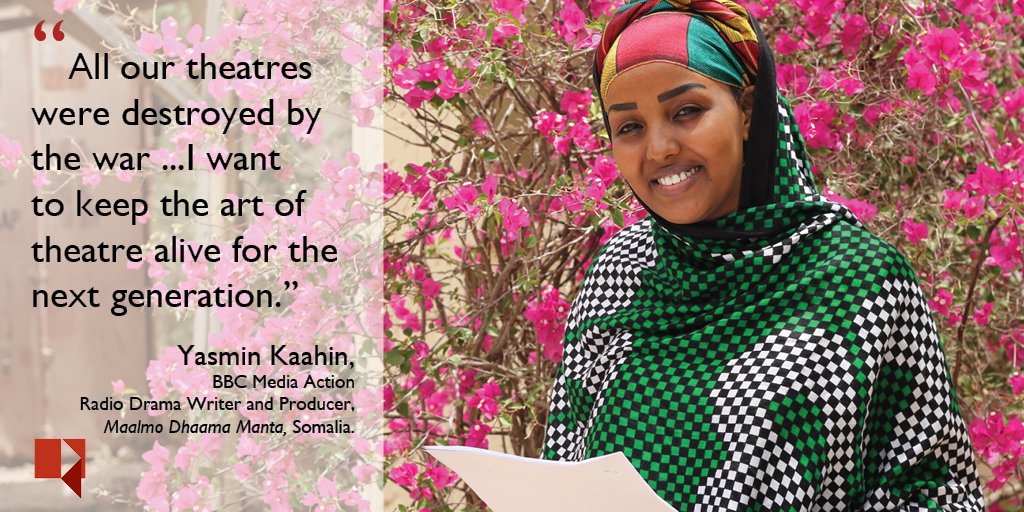 More on Yasmin Kahin
---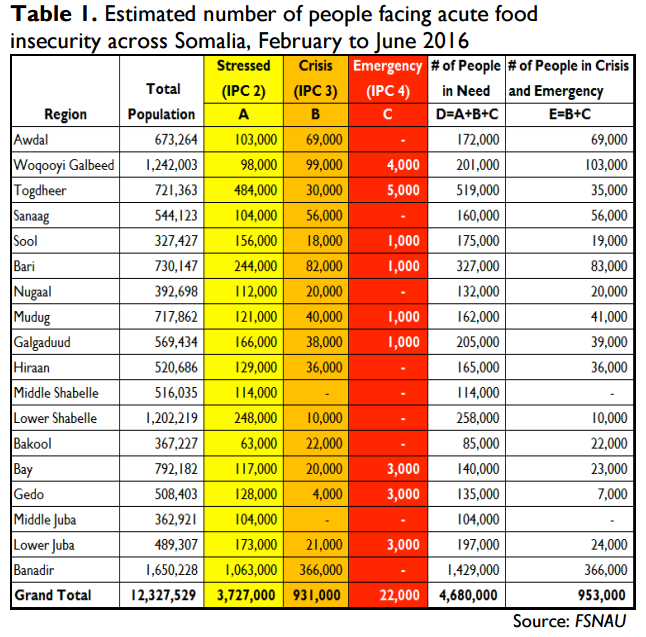 Feb 18, 2016. Somalia Post-Deyr 2015/16 Food Security and Nutrition Outlook, Issued on 17 February 2016


29 May 2016. Recent update on crisis: Somalia: Overview Situation Report (as of 30 April 2016)

---

An image critical of the 4.5 formula that frequently appears on the social media.
Background
This comment reviews parts of the political debate on power sharing and war termination, in a peculiar state where an ancien regime is long gone 25 years ago. This touches on some key features of long-running peace-building that is now finally focused on actual power sharing as basis of state-building in Somalia. These remarks belie any belief in power sharing as a miracle formula, which is rare in failed states, particularly, in Africa, but bringing together different issues should only lead to further debate. What is meant by power sharing? Who has to share power with whom and who can still be excluded from equal sharing arrangement? A major point of contention in the following discussion centers around limited power seats reserved for certain marginalized clans and caste groups, while none of the four major groups are contesting or complaining about the allocated shares.
Defenders of power-sharing generally claim that ethnic groups could be integrated into institutional arrangements which would in turn guarantee a meaningful participation in political power. Observers of power-sharing arrangements as the core element of post-conflict peace frequently base their arguments on the work of the Dutch political scientist Arend Lijphart on consociational democracy.
They assert that power sharing would basically maintain a strategic distance from further secessions and convey more prolific answers for conflicts in plural social orders. The cases of ethnic and different parts of society could be coordinated into institutional courses of action which would thus ensure a significant support in political power. This would maintain a strategic alternative from all the more excessive options of a completely fledged war. "Spheres of autonomy" for the distinguished gatherings would be a necessity as would be proportional representation and some veto rights.
These inquiries are fundamental as power sharing can be constrained to just a certain ranges of administration, as power might be shared between an existing administration and just hand-picked rebel groups (as in Afghanistan), or as radical developments involving a stateless vacuum, comprising of a unbelievable environment of no peace, no war, where all political groups are in a state of generalized opposition to each other, and that typically the regular citizens are frequently forgotten.
In Somalia, where all of this is happening following a state collapse of over two decades ago, and that is bordered by a stable secessionist state, Somaliland, in what had been the northern regions, which complicates state-building in Somalia. In addition, Somali government operates under the shadow of international intervention directed against a deadly terror group, al-Shabab, who similar to the Taliban, is fighting for Islamic rule, and who is the main spoilers of the existing peace process, which they see as unjust and imposed from outside.
Distributing seats
What the 4.5 power-sharing means is about sharing power on the basis of 4 major clans (Hawiye, Dir, Darood and Digil-Mirifle) and a cluster of about six minor or marginalised groups (i.e., Gaaljecel, the Banadiris, the Somali Bantus, Gabooye/Baidari/Madhiban, Barawans, and Bajuni, etc). The total representation alloted to the latter groups will be equal to half the representation of the one of major clans, or namely 31 parliamentary seats. These seats are divided up among the minority clans (which includes both ethnic minorities like the Bantu "Jareer Weyn" and Bajuni and "livelihood" minorities who are considered caste groups, as explained by John Kirk.
The Isaaq clan, notably, finally wasn't included as they don't reside in southern Somalia, but the Mogadishu's strategy, long pushed by the Darood and Dir clans, still called for including a handful of token representatives as a part of seats which are allocated to the Dir clan. More than anything else, this issue alone played a major role in the delay in moving negotiations from Sodere-Ethiopia, Arta-Djibouti, Mbagathi-Kenya, to the Baidua-Mogadishu conferences. For example, the current Deputy Prime Minister Mohamed Omer Ghalib and several other shenanigans were hand-picked to serve as the clowns of that mythic Dir-Isaaq representation. Somaliland government does not recognize their activities and representation, although recently, in an attempt to deprive Mogadishu's courtship with its former politicians, the government issued an amnestyto Somaliland politicians and clan chiefs now based in Somalia, although it is unlikely they will give up their political ambitions.
Back to the so-called 4.5 power sharing, in practice, the 4.5 system formed the foundational basis to the recent caucus-style elections of interim legislative bodies of federal Somalia, SW Somalia, Galmudug and Jubba states and the future Hiiraan and Middle Shabelle state. The political convention since 2000, when the Arta conference adopted the 4.5 power-sharing system, Somalia's two highest political offices, president and prime minister, have been held by only two Somali clans. In practice, this means that a Darood or Hawiye president must select a Darod or Hawiye prime minister. The remaining 2.5 (Dir,Digil and Mirifle and minority clans) have been excluded by the rotation convention. The logic follows that the speaker of parliament is to be conventionally held by a member of Digil Mirifle.
Unlike anywhere else, the assembly and cabinet representatives were based on clan membership. The National Constituent Assembly would consist of total of 135 representives, or 30 elders drawn from each of the country's four major Somali clans and 15 from a coalition of minority groups based on the 4.5 formula. This body is supposed to choose the first of 275 new legislators, who are tasked with electing the president, the speaker and two deputy speakers. The 275 members of the parliament would consist of equal 61 members from each of the four major clans, while the remaining groups together received a total of thirty-one seats. In short, according to the transitional charter of 2012, the federal assembly would consist of eventual 275 member bicameral parliament, including of an upper house seating 54 members.
Notably, it also earmarked 30% of the National Constituent Assembly consisting of women in order to mitigate universal male domination in political leadership common in Somalia. This was based on the recommendations of the UN Beijingconference on women in 1995, which delegates called on, among many recommendations, all governments to have women represent 30% of their governments' ministers and of other appointed members in similar bodies.
Throughout Africa, women are less likely to become cabinet ministers or randomly appointed legislators where ethnic 'big men' incumbents use such appointments to build patronage-based alliances with politicians or 'ethnic patrons', who act as advocates for tribal constituencies - a role that women are often not well-placed to play as they are less suited to recruit supporters and deliver votes in order to ensure widespread support. Thus, sidelined into poltical cheerleading and supporting marginal political roles in ruling groups and holding a junior state functions, females have had limited chances to participate in the allocating of state resources and claiming definitive political credit for doing as such. Accordingly, women by and large do not have the traditional political followings expected to effectively negotiate themselves into bureau positions as ethnic benefactors.
Overall, the system produces a rough proportionality by dispensing with voting altogether: the random selection of representatives from the populace segments as once used in ancient Rome, known as sortition. Conversely, the more commonly used system of party-list proportional representation, is where political parties define candidate lists and voters vote for a list. The relative vote for each list thus determines how many candidates from each list are actually elected. This system, however, is not currently possible in Somalia as there are no political parties in existence.
The reason behind the voting for a party list in this sytem is that the delegate-based majority-rule government can't work appropriately without political parties. Political parties give the vehicle to the electorate to express their various interests and allegiances through vested parties and offering voters distinctive political choices. They likewise are key organizations for comprehensive investment and responsible representation, reacting and conveying to the requirements of the general population.
"Condemnation of the 4.5 arrangement"
In emerging public discourse, although there's total condemnation of this temporary system, and there's also a dearth of in-depth analysis, most of it happens to be negative. This paper offers a minority group's perspective lambasting the 4.5 formula for what they called it an apartheid system of representation. It fails, though, to point out how electing legislative assemblies and filling up cabinet posts using a fixed set of representatives from various groups could create a more segregated society. The society is already famously segregated enough along clan and sub-clan lines. And, for example, in the war-torn Iraq, the new legislative assemblies and the cabinet were allocated to party groups based on sectarian and ethnic memberships, like Sunis, Shites, Kurds, while certain seats were reserved for the marginalized groups, such as Turkeman, Yazidis, Assyrians and Chaldeans, etc.
As an illustration, as in the October 2005, a general election was held to elect the permanent 275-member Iraqi Council of representatives. The elections took place under a list system, whereby voters chose from a list of parties and coalitions. 230 seats were apportioned among Iraq's 18 governorates based on the number of registered voters. Throughout this process coming in the end of the civil war there, an increased social and public segregation was the least of Iraq's problems.
In addition, this account singles out that one clan family, the Digil-Mirifle, a diverse group of agro-pastoral-urban communities, was a main beneficiary as to have been elevated to a major clan status under the 4.5 formula. This is absurd in that, in a mainly pastoral society that endlessly highlights differences within a myriad groups structured along genealogies, how could some geographical cohesive unity within disparate groups be considered a bad thing? This particular and generally peaceful clan family consists of much amalgamated groups, who practice both the patrilineal cleavages as well as some stable and unique farming settlements and residential communities, where district-based representation could take root more easily.
Another piece characterized this arrangement as 'crude and simplistic' solution for a socially complex society. This formula is blamed entirely for the lack of emergence of cohesive political class representing the totality interests of various groups, although it was only during the Arta conference of 2000 that this formula was first discussed. What would be an alternative option to share power among social groups in a bitterly divided society?
The Somali political dilemma has many roots but it's also mainly about yearning for or demanding a 2 levels of representation at once: Individual level of voters casting their votes and that of social groups wanting be represented along side all other groups -proportionality and balance- which seems to be the more important one. After all, the pervasive quest for group recognition is central pillar of the clan identity.
Beyond gaining of individual voting rights, or universal suffrage, how could social groups, who otherwise share basic commonalities like language, ethnicity and religion, as well as being proud of sharing a common Samaale tribal heritage, but, due to prolonged statelessness, are still organized as a separate and rival patrilineal-based clans and sub-clans, could share power after 25 years of war?
Also, how could measures of incremental democracy, however small and cosmetic, and within a particular clan culture, however large it's imagined to be, be mixed together, in an evolving fashion, in building of a working nation-state like those found throughout the rest of Africa?
Finally, is Somalia and its constituent states ready for one person, one vote system? That system of modern representation, meaning, at least legislatively, one based on district-based voting system, that of sending elected representatives to a local, regional and national assemblies is not currently feasible. It will take decades of community-building efforts and sustainable economic development for such a system of representation to take root.
In the meantime, regular and timely elections starting with electoral districts (also known as a constituency, ward, electoral area or electorate) which is a territorial subdivision for electing members to a legislative bodies ranging from village councils to regional and national parliaments, using any feasible and working formulas, will go long ways to entrench local community identities and residential group interests that would eventually overlap clan identities, which are socially fine and useful but politically problematic.
"Cabinet appointments"
"Nominated Ministers and Their Clans". Goobjoog. 28 January 2015.
The above article shows how the current government leader, PM Sharmarke, the fifth appointee to the post since the end of TFG government in 2012, has used the Prime Ministerial power of ministerial selection and portfolio allocation within the context of the 4.5 power-sharing. It consists of 20 members, whereby each of the major groups receiving four portfolios and shows that the four or five marginalized groups sharing four posts. In this context, above all other considerations, the president and his prime minister are using cabinet appointments to send a strong signal about what social groups they wish to prioritize or which issues they will give more prominence during their mandate, all based on the formula.
The second consideration is striking out a balance between cabinet post constraints and the power sharing expectations. Specifically, it shows the significance of his use of patronage in terms of not only proportionality (numbers), which is the main focus of the formula, but also about portfolio distribution or prestige within the cabinet and expectations in the future reshuffles (renegotiation of numbers and prestige).
Political observers are thus mainly left to consider political background and educational experiences important in regard to ministerial positions since the skills and abilities acquired within the previous political or professional careers might be transferred into the cabinet. With regards to educational level, ministers' degree is considered to matter in the type of portfolio which ministers are appointed, since education may shape ministers' skills, knowledge, and their performance in cabinet.


An image from a social media account critical of current junta

---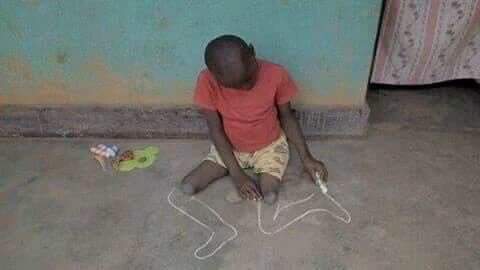 "Let your hopes, not your hurts, shape your future." - Robert H. Schuller
---
January 18, 2016. 'The Somalia 2011 famine was a U.S.-created war crime, says journalist Alex Perry'. More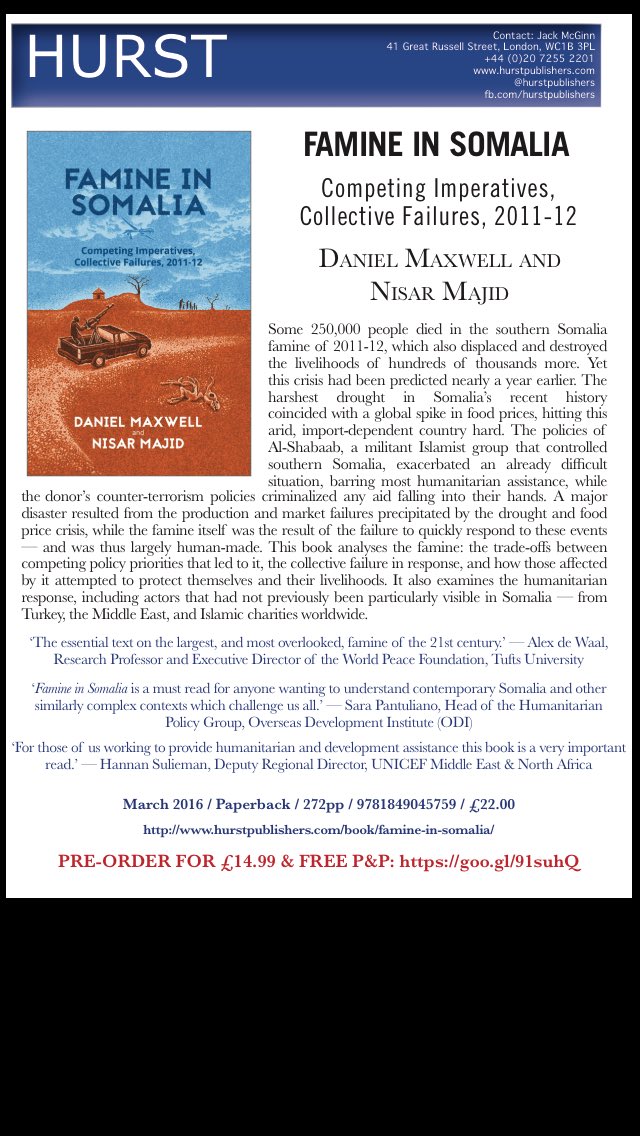 Recent backgrounder to 2010-12 famine in Somalia

---
"The attack on El Adde base"
Al Shabaab terrorists display the bodies of over 100 Kenyan soldiers they killed in El Ade, Gedo, Somalia on Jan 15, 2015 in the worst attack ever on Amisom forces. Details are still sketchy, but it looks like this: Al Shabab attacked the Amisom base in dawn when four suicide car bombs rammed into the gates and followed by heavy exchange of gunfire. When the dust settled down, Al Shabab claimed 100 KDF were killed, and as many as 19 kidnapped. Another 29 soldiers were found wounded in the sprawling base.
The attack team on El Adde base was notably named after Saleh Nabhan
, a Kenyan and former Al Qaida leader in East Africa, who was killed in a U.S. drone attack on September 15, 2009 in Barawe.
War on Terror
The false and racist war on terror simply produces more terror. But the Zionist lobbyists and policy makers in Washington from the War Party
, who represent the interests of Israel and Jewish lobby AIPAC, have been pushing these wars since 1996, long before the 9/11 terror attacks, and who are running the foreign policies behind the facade of U.S government. They will never see or care about these pictures even if merely pushed aside as 'human collateral' nor do they care to understand why it keeps happening again and again. This state of affairs will continue as long as the War Party is projecting its power in foreign affairs for all, and as long as the Zionist-owned mainstream media covers up for them and that most victims are either Africans or Muslims and none are Jewish.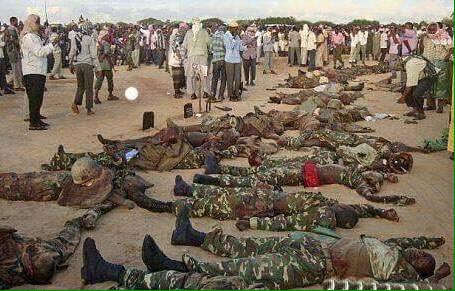 Al-Shabaab's Nabhan Brigade Resurfaces and Raids AMISOM Base in Somalia
Three things we learned from last week's al-Shabaab attack in Somalia
---
"Jewish lobby's power"
8 March, 2016. Israeli War Lies Fall as Corporate Media Falls
"A new film narrated by Roger Waters, The Occupation of the American Mind, traces the rise of Israeli war propaganda in the United States. This propaganda, which has skillfully swayed U.S. public opinion in support of Israeli wars and occupations, has in fact been not so much a matter of skill as a matter of control."
John Mearsheimer and Stephen Walt. The Israel Lobby

John J. Mearsheimer & Stephen M. Walt. The Israel Lobby and U.S. Foreign Policy


6 Jewish companies control 96% of the world's media
---

Feb 12, 2016. For the cheapest mobile call in Africa, go to Somalia

---
Few comments on what the future holds for Africa in 2016.
The Mail and Guardian Africa published on 6 January 2016 an article titled "10 Predictions on Africa in 2016: How Trends Shaping the Continent Are Likely to Play Out" by Christine Mungai. More.
Highlights of the piece involves China, including the rise of China's military presence along Africa's busy maritime routes, with Djibouti serving as the first base, and the decreasing demand for Africa's raw materials due to China's recession, tops the economic news, followed by impending rash of the usual currency devaluations.
"War on Terror "
The growing costs of the War on Terror from Somalia, Nigeria to Mali and the changing of terror groups' tactics from open confrontation into asymetrical attacks, including the use of children as bomb conduits in marketplaces and government buildings, are expected to rise.
In Nigeria's worst case, the Boko Haram conflict is the deadliest in that the insurgency had spread over into neighboring Chad, Niger and Cameroon, and UNICEF reporting that this has meant the closure of more than 2,000 schools and the disruption of over a million children's schooling, according to aljazeera. Overall a six-year insurgency is said to have killed 17,000 and displaced more than 1.5 million people.
Nigeria's new president Muhammadu Buhari, the first Muslim elected since the insurgency began in 2009, is the latest political sensation, with some hoping that his administration could seriously launch meaningful negotiations with the Muslim rebel group. Without stating specifics, he claimed at year-end some success in defeating the insurgency and serious changes as to how the conflict is being managed.
But the group's new tactics only highlight their usual modus operandi and that the problem is multi-generational and that no defeat of terror is in sight anywhere."The number of dead and victims are rising, economic activities have been crippled in affected areas, the number of refugees and displaced persons are ever increasing," Paul Biya of Cameroon said recently, according to Daily Trust. "We cannot allow this cancer to spread, we must pool our resources and forces and share our experiences."
Meanwhile, in 2016 will have East Africa watching its other main terror group - al-Shabab - following reports that the Somali-based Islamist group has split into two factions, loyal to al-Qaeda and ISIS, respectively. 2016 is unlikely to bring any truly decisive developments in altering the present crisis in Somalia and Kenya, but expect Al Shabab to go on the offensive whenever possible to prove its continued relevance, and both Kenya and Somalia remain vulnerable to such attacks, due to their highly corrupt regimes and incapable security sectors.
"Will elections matter in 2016?"
Michael Bratton, in his book Voting and Democratic Citizenship in Africa summarized political issues in Africa are usually seen starting from the top. Writers and social researchers alike tend to concentrate on the deeds-and offenses-of African presidents and the circle that encompasses them. The blended political history of postcolonial Africa, for instance, is regularly composed as far as the authority of remarkable people such as Mandela, Mugabe, and Museveni. In these countries where the Big Men dominate the state and the economies, will the outcomes be any different in elections scheduled in 2016?
The interesting election in Nov 2015 of President John Magufuli- aka "The Bulldozer" in Tanzania and the launching of his unprecedented anti-corruption campaign, as he had promised, was the most dramatic political event in 2015. "He was for many years minister for works, supervising execution of mega projects worth trillions of shillings, but was never implicated in any corruption scandal," Joseph Warioba, a former prime minster and veteran CCM politician, told AFP news agency.
Will his election set the tone for the upcoming 17 elections that are scheduled in Africa for 2016? The main ones to watch include Zambia, where President Edgar Lungu will face re-election. In Uganda, the incumbent Yoweri Museveni, a political dinosaur who has been in office since 1985, is facing a real election of sorts but observers expect he looks set to win the election but they expect a more contentious process this time around. Be that as it may, young people still seek after change as the nation braces for a possibly vicious race. Furthermore, as the February date of the races nears, people are worried about the possibility that there will be flare-ups of violence such as in 2011 when business and ordinary life was paralyzed for a considerable length of time aferward.
"Burundi".
In April 2015 challenges broke out after the ruling party reported President Pierre Nkurunziza would look for a third term in office. Protestors claimed Nkurunziza couldn't keep running for a third term in office but the country's high court concurred with the President (albeit some of its members had fled the country at the reason of its vote).
An attempted overthrow on 13 May failed to oust Nkurunziza who came back to Burundi and started purging his legislature and courts and captured a few of the coup leaders, who subsequently recieved life sentences.
Following the failed overthrow, dissents however proceeded and more than 100,000 individuals had fled Burundi by 20 May bringing about a humanitarian crisis.
The deepening of the political crisis in war-torn Burundi and the refusal of the recently re-elected Pierre Nkurunziza to accept the inclusion of African Union peacekeepers in preventing ethnic wars between the majority Hutus and the Twa and Tutsi minorities, and who declared such intervention as a provocation to war, makes it a flash-point to watch
.
---
"Today Has Anyone Wept in Our World?"

"In July of 2013, Pope Francis visited the tiny island of Lampeduso off the coast of Italy. He offered mass on an altar made from a small wooden fishing boat which had brought refugees to the island. In a homily during the visit Francis said "Immigrants dying at sea, in boats which were vehicles of hope and became vehicles of death.... When I first heard of this tragedy a few weeks ago...I felt I had to come here today, to..." More

---
---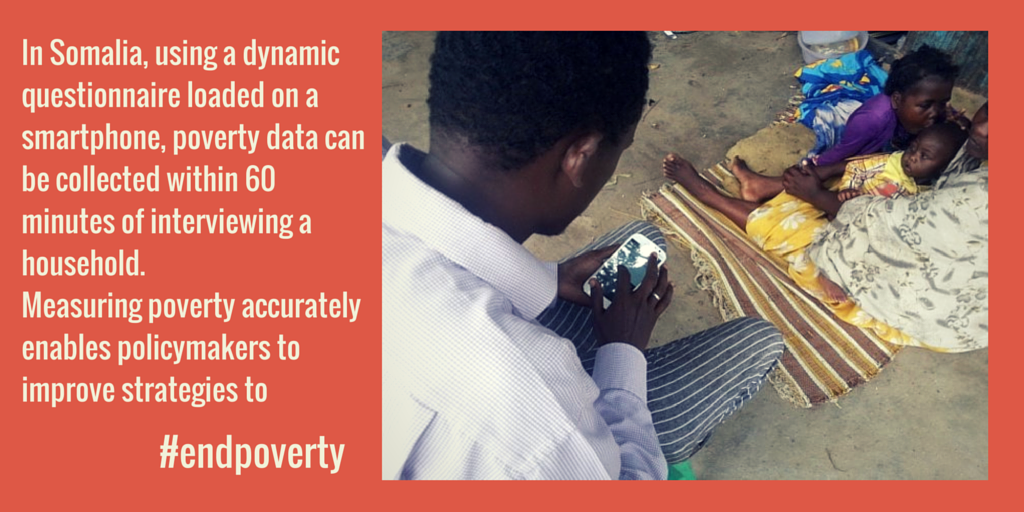 Measuring Poverty in 60 Minutes to Help Somalia Address Data Deprivation
---
Illegal fishing data
"Illegal foreign trawlers are severely depleting fish stocks in Somalia & making $300m+ a year"

Illegal fishing off Somalia 'risks return of piracy'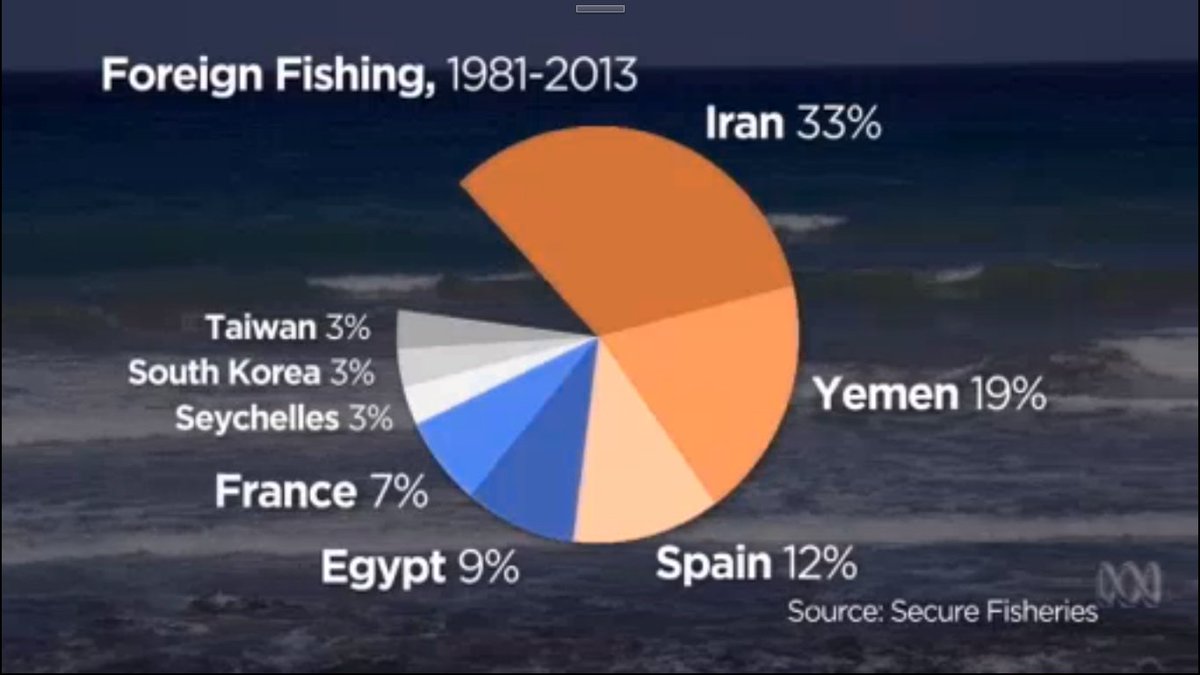 8/15/2016. Illegal fishing along the Somali coast. As piracy is contained, Somali fishermen again compete with illegal vessels in their waters

---
" Comments on constitutional anarchy
"
"Latest installment of cabinet lineup in Mogadishu"
Updated Feb 5.
On the third attempt, 66 accessories to crime were appointed in the pretext of achieving the impossible fantasy of clan proportionality and balance through the so-called 4.5 power-sharing formula. The apparent outcome is a frenzy of pursuit of personal interests that form the basis of the greasy patronage politics that played a major role in the state collapse in Somalia. Somali PM appoints cabinet


Related:
Silanyo Drives Somaliland into Black Hole

"Few comments"
It looks messy and chaotic, but I would choose constitutional anarchy anyday in the face of the alternative reality, the place of volatile, armed anarchy and complete legal vacuum. The remedy for constitutional anarchy is more constitution but an armed anarchy needs no solutions as it leads to complete collapse of state institutions and the rise of all-around factional tensions. In a parliamentary anarchy, the spoilers vie for another vote on the floor of the assembly or await a higher court decision, which is what's lacking here, as you can also see in even the more mature Somaliland process. The alternative is the starting of fresh fighting that leads to transformation of statelessness into increasingly irregular fighting forms that was the byword for Somalia since 1991.
Despite the vote-rigging or vote-buying allegations, as charged by the UN's Nicholas Kay, pushing for lawful process of secret ballot voting by the elected representatives and a transparent and peaceful politicking based on one-man one-vote are badly needed. This will usher a new political order based on majority rule, which is less likely to happen in a politically unstable environment.
The reported cancelation of the Copenhagen conference in 19 and 20 November that was designed to support the New Deal Compact, endorsed by the Somali government and international partners at the Brussels Conference in September 2013, should serve as a wake-up call for the dueling factions to end the stalemate and respect both the majoritarian decision and minority's rights.(The two realities go hand in hand).
The Compact serves as the best hope for a road map towards implementing the peace-building process in Somalia, and to steer it away from fragility and toward stability and sustainability in a bid to achieve its goals in the so-called Vision 2016 process. In both regions, the enemies of peaceful, political process include grasping leadership, bad governance, weak or non-existing judicial structures, growing insecurity even in and around state buildings, corruption, rising poverty and unequal access to power that lead to mounting frustrations among various factions.
In Somaliland, Silanyo's tactic is seeking of a term extension which, if passed, will be a replay of Guurti council's three-year extension for the Riyale presidency as it happened in 2007. By this time, all parties should accept that it is the voters who should elect their government once every five years, in this case, come June 2015. The unelected Guurti Council should stay out of election processes and the House, which is just a law-making body, apparently doesn't have the authority to elect a president. The Supreme Court should stay independent of political squabbles unless there are authentic constitutional disputes.
Thus, we appeal to the key donors and international organizations to keep the pressure on Somaliland by cutting off any assistance or imposing travel bans and economic sanctions in the event of presidential coup as it happened in 2007.
In Somalia, the front-line states, who provide the bulk of Amisom troops, key donors and the international community should pressure the government to respect in principle the prime minister's authority to form his cabinet of executive ministers, with the president having a limited, consultative role rather than excercising a veto power over the prime minister's choices for a cabinet that will be ratified by the House. Then in their hybrid system - unstable semi-presidentialism type of government in which a president exists along with a prime minister and the Cabinet both accountable to an assembly and a president- both the Cabinet and the House of delegates then reserve the right, using a simple majority vote, to issue a motion of no confidence against sitting prime minister or president. (Due to its disruptive nature, there should be a limit of one motion of no confidence in any given year. Inexprienced politicians could use it to force compliance rather than seek compromise). However, Somalia currently lacks an elected national assembly and a constitutional court with strong powers of constitutional or judicial review. Still, the current parliament forms the best foundations for the Somali owned, inclusive Vision 2016 process, which is the center-piece of the entire "New Deal" Compact process.
HSM, the 8th and current president of Somalia should remember these comments he made at Wilson Center in Sept 2013: "It is the duty of my government to prove the skeptics wrong: to lay the foundations for a Federal Republic of Somalia that will be strong, stable, and united, and in which the principles and practices of democracy are realized at all levels of government."
The basis and foundation of government are not who holds presidential, premiership or speakership positions, but the citizens' rights to vote in regular elections. This is too one of the most important tools citizens have to influence the policies the government adopts.
In this era of internet and smart phone communications, people today have an unprecedented access to information. Regardless of which political personalities involved, Somalis everywhere should use the communication tools to insist upon the basic rights of their fellow countrymen to choose their governments in free and fair elections.


"Use the real power in your hands"
M.Bali
29 Sept, 2014
---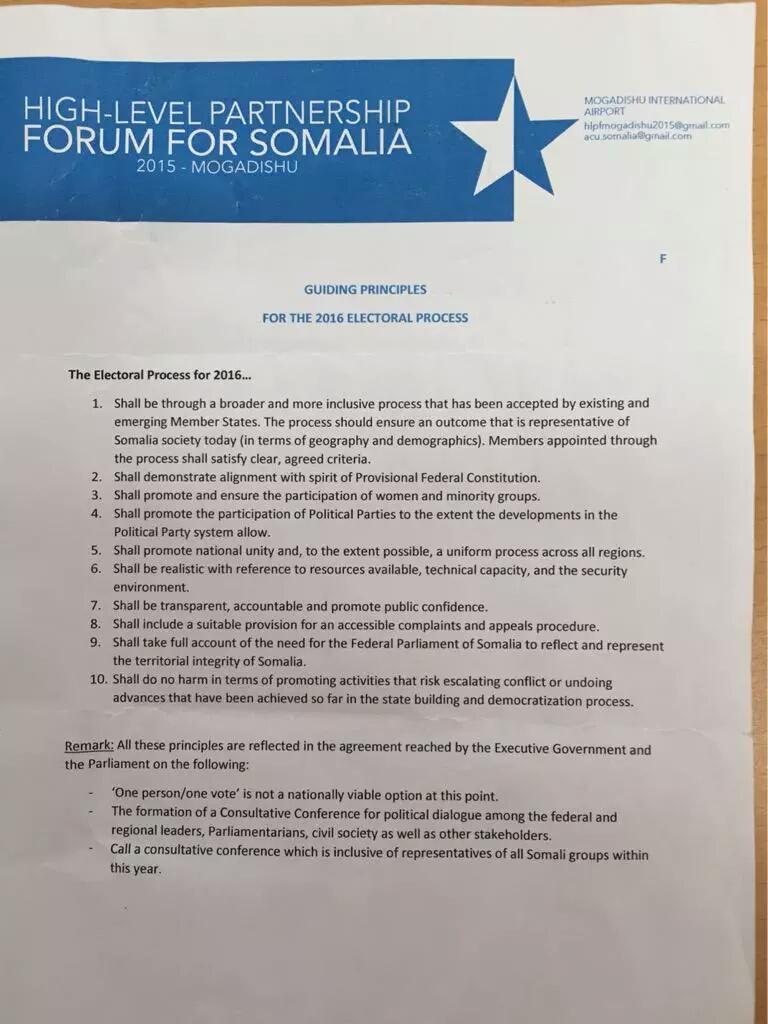 High Level Partnership Forum (HLPF)
---
---
From archives of history of people of Somaliland
Excerpts from Gerald Hanley's. "Warriors: Life and Death Among the Somalis".

Quotes from Gerald Hanley. "Warriors: Life and Death Among the Somalis". More

---

More on Google books
.
---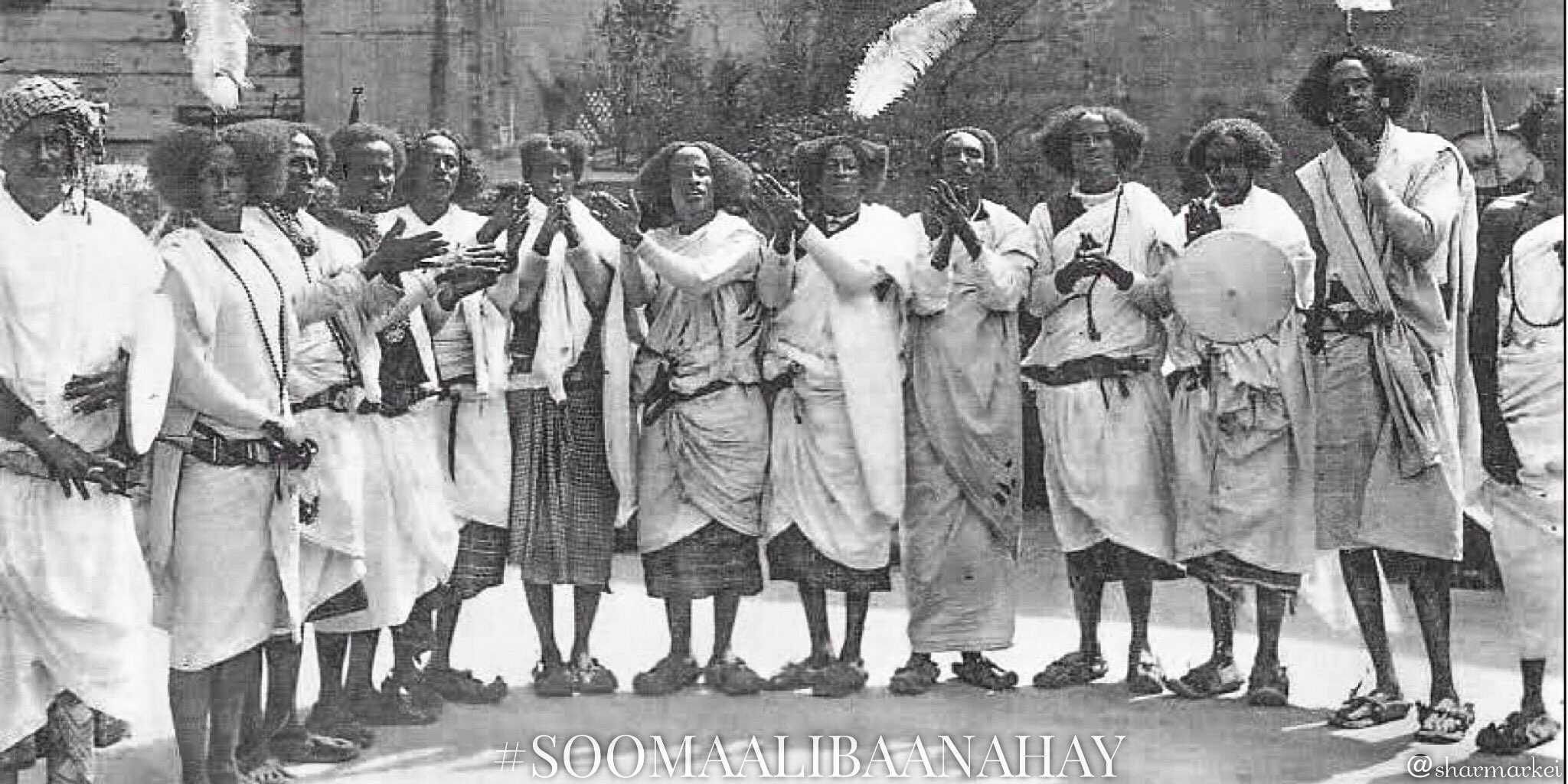 Read more
---
Read more
---
---
Read more
---
Read more
---